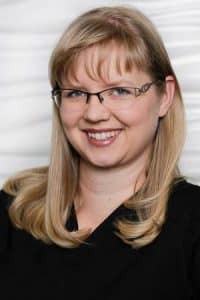 I wanted to become a massage therapist as a young girl after I saw how massage helped my Mom's shoulder pain. It was then I had decided I would like to help people feel better too.
Treating the pain symptom is nice however my approach as a therapist is to find the underlying cause of pain and dysfunction. This way my treatments are more effective in the long term.
I enjoy working with children, seniors, pregnant women and clients who are recovering from injuries and concussions.
I believe the Lord is the ultimate healer and I feel blessed to be his instrument. I enjoy witnessing tissue release, relaxation and healing in the body.
Pam is a gifted Massage Therapist and Craniosacral Therapist at Relaxing Wellness.
Her lifetime learning includes:
• BSc in biomechanics 2001
• Massage Therapy 2004
• Myofascial Therapist 2011
• Rain Drop Therapy 2014
• Craniosacral levels 2015
• Cold Laser Therapist 2017
When Pam's not at the Studio she enjoys being a mom, some alone time, bible study and belly dancing. Pam is giving of her time through volunteering regularly at our aid station support events.