Feel your worries melt away as you unwind with a hot stone massage. Hot basalt stones allow for a deeper massage of your muscle tissue to release stress, headaches or muscle tension leaving you in a state of zen.
If you are sensitive to deeper pressure or have sensitive skin, a combination of gentle pressure and hot stones will help you unwind in comfort.
You'll want to arrive hydrated for your hot stone massage. Drink lots of water before and after to help your muscles recover quickly.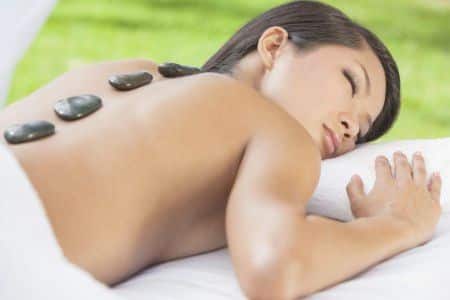 Benefits of Hot Stone Massage:
Relaxation
Reduced Muscle Tension
Improved Athletic Performance
Less inflammation following deep tissue
Pain Reduction
Conditions Treated:
Pain during regular massages
CFS, Fibromyalgia, Rheumatism
Upcoming Athletic Performances
Extreme stress
Difficulty sleeping
Suggested Products:
Organic lavender oil
Organic bath bombs
Mineral bath salts