A traditional Indian Head Massage offers the ultimate release of stress and tension in your face, head, neck and shoulders. You can receive this treatment sitting up or lying down, depending on your comfort.
Argan Oil will be massaged into your scalp, neck and shoulders to transcend you into a deep state of relaxation.
You'll want to arrive hydrated for your head massage. This treatment is best for a day off or at the end of your work day as it will leave you in a deep meditative, relaxed state.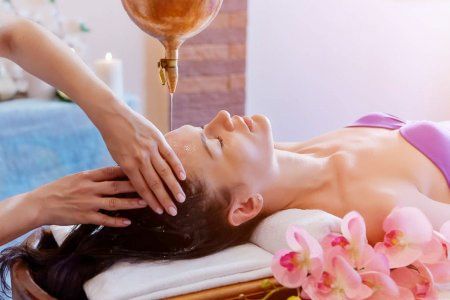 Benefits of Indian Head Massage:
Stress reduction and total relaxation
Helps calm the mind
Encourages resilience and focus
Facial tension lines are relaxed and softened
The perfect gift for any occasion
Conditions Treated:
Overwork and stress
Unable to have a full body massage
Upcoming athletic or performance events that require focus
Feeling rundown
Suggested Products:
Alpha lipoic shampoo
Endor cleansing milk
Organic bergamot oil