Manual Osteopath
Registered Massage Therapist
DO(ESP), BScZool, DOMP, RMT
Member of NHPC, OOAMA, ACMA, CRMO
About Me
I have been physically active with hiking, cycling, and other pursuits throughout my life and I've learned so much about the body's personal aches and pains through living life well! I suffered a back injury from improper lifting at the gym and the extensive physical rehabilitation of massage therapy and chiropractic began to teach me much about how the body heals itself. It took a long time for me to realize that if I had been more personally engaged in that healing process, rather than simply having practitioners do the work for me, my recovery would have been speedier. Most importantly, it taught me about how tissue responds to treatment, how pain is experienced and how injury relapses occur. This together with my education led me to my career as a Manual Osteopath and Massage Therapist. Understanding the body is a two-way process that improves over time.
My philosophy to optimal wellbeing is: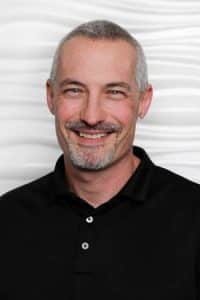 Client engagement
Coachable
Lifelong learning
Chris's lifetime learning includes:
Bachelor of Science, Psychology minor 1996
Massage Therapy 2017
Advance Orthopedic Massage of the Lumbar/SI joint 2017
Dynamic Cupping 2017
Manual Osteopath 2017
Kinetic Massage of the Neck 2018
Upledger Institute CranioSacral Therapy I 2018
Upledger Institute CranioSacral Therapy II 2018
Upledger Institute SomatoEmotional Release I 2019
DO. (ES) 2020

Barral Institute Visceral Manipulation I 2021
When Chris is away from the Studio you'll find him building memories with his children and wife Donna. Chris has taken an active role in bordering and training service dogs. Chris is on track to complete his Osteopathic Bridge Program in 2022.
"Health is not valued till sickness comes."
Being in a customer-centric industry, we work single-mindedly with the vision of being the leader of healthcare providers across all ages and social structure such that we are synonymous as the ultimate health care choice for all.
We seek to improve constantly and are working to get the best technology and the best of talent to foster excellence in patient care and treatment.
I had a glorious 90 mins with Trish. I highly recommend the Detox Massage and think everyone should get that done 2-3 times a year. Love The Relaxing Wellness Company! Everyone is professional and very good at what they do. Love the spa like decor and it's always so clean! I would give it 5 stars!
Roxie
The Relaxing Wellness Center has been a great find for myself and my family. I work out rigorously 6 days a week. Their knowledge and technique for massage and cupping has helped my body change and grow tremendously in under a year!
Lisa Logan