SculpSure Body Contouring
SculpSure laser treatments provide a non-surgical, non-invasive approach to body contouring and fat reduction.
Get the body you have always wanted with a series of easy, 25-minute treatments. Best of all, there is no downtime, recovery period, or damage to the tissue and skin!
SculpSure is an FDA-approved, Health Canada-authorized laser system that reduces stubborn body fat without surgery or downtime.*
If you have stubborn pockets of fat in your abdomen, back, submental area (double chin), flanks, and/or thighs, SculpSure may be the perfect treatment for you.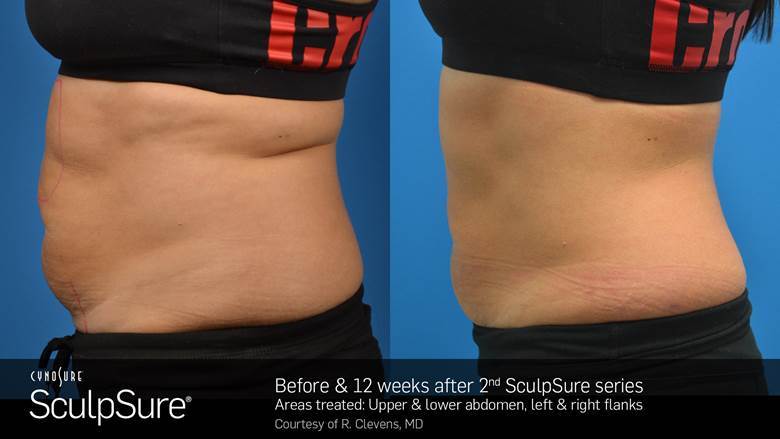 Benefits of Sculpsure Treatments:
FDA-approved
Reduces stubborn body fat*
Short 25 minute treatments
No downtime
Conditions Treated:
Abdominal fat
Back fat
Double chin
Love handles
Thighs
Suggested Products:
Endor Anti-Cellulite Cream
Homeopathic Drainer
SculpSure – the revolutionary laser treatment zaps those pesky fat cells for good! FDA and Health Canada-approved, it can be used on the abdomen, flanks, back and thighs, and chin. Two treatments spaced out over 6 weeks are recommended for optimal results which you'll start seeing in as little as six weeks after starting your sessions; reaping maximum benefits by 12 weeks. So wave goodbye to surgery's long hours of recovery time — get ready to show off your stunning new shape without breaking a sweat.
SculpSure uses a groundbreaking 1060 nanometer wavelength that specifically targets fat cells while sparing the surrounding skin. In no time – just 25 minutes per treatment! – bothersome belly bulges and other hard-to-treat fatty deposits can be melted away. Results start to appear as soon as 6 weeks post-treatment with optimal results visible within 12 weeks after your session is complete.
What goes on during SculpSure treatment?
When you get a SculpSure treatment, it starts off with mapping out the best spots for getting your desired outcome. Then to make sure everything is nice and snug during the process, an extra layer of lotion is applied before affixing frames onto the area – all tied together with special belts! Lastly, those magical heating devices are clicked into place – ready to work their transformative magic!
One of our certified SculpSure practitioners will be with you during the whole process, ensuring you're comfortable and happy. Treatments are often accompanied by complimentary hand or scalp massages so that you feel pampered and at ease.
The treatment lasts 25 minutes but first, there is a 4-minute warm-up. For four minutes, you'll progress from light warming and tingling through increasing intensity. After that, it's time for Zone 4 – a 30-second cycle of intense warmth followed by sweet relief in the form of cooling sensations. Everyone experiences this differently – some compare it to bad menstrual cramps but with an added fiery element that subsides as soon as your body needs break time! Don't worry if things get too hot; just let us know so we can ensure your comfort throughout treatment.
After SculpSure Treatment
SculpSure treatment is a great way to reduce fat cells in targeted areas. With the delivery of controlled heat, up to 24% of fat can be eliminated through your body's lymphatic system. Light massage of the area at home will help move the eliminated fat cells out of your body. Our trained RMTs can show you how to massage the areas moving the eliminated fat cells through your system.
You will see results after you complete two treatments six weeks apart and wait a total of 12 weeks for results – will you see them? There is minimal downtime and most clients are up and ready to go after each treatment.
The Relaxing Wellness Difference
Health and Wellness Experts:
Relaxing Wellness offers many medspa services and professional skin care treatments, and it is also home to registered massage therapists, Manual Osteopaths, Homeopaths, and more. Our wellness studio always has your health and wellness as its first priority. This means that we ensure any treatment you receive is right for you and your body and we ensure you're always being well cared for. We can put together a wellness plan that will ensure that you reach optimal results for your body-sculpting treatments.
In addition to helping you put together your wellness plan that includes fat reduction through SculpSure, we offer other treatments such as TempSure Firm and Clearlift which are all designed to tighten and firm up the skin.  When you choose to do your treatments with Relaxing Wellness we can offer discounted rates and package deals.  Speak to us during your consultation about what your ultimate goals are and we will help you get there.
We recognize that SculpSure is an investment and want to ensure that our clients are able to access the treatments they desire. You will find that our prices are the same or lower than other providers. In addition to annual discounts and sales we offer. We have financing options available and discounts on package pricing.
We encourage you to contact us for a consultation or to call and speak to us about any questions you may have.