TempSure Envi Skin Tightening
What is TempSure Envi ?
TempSure Envi is a non-surgical skin tightening treatment that uses radiofrequency energy to firm up loose skin on the face and body.
This non-invasive treatment can also minimize facial wrinkles & fine lines and improve the appearance of cellulite.*
At The Relaxing Wellness Company, we provide skin tightening treatments to help people in Calgary (and surrounding areas) look and feel their absolute best!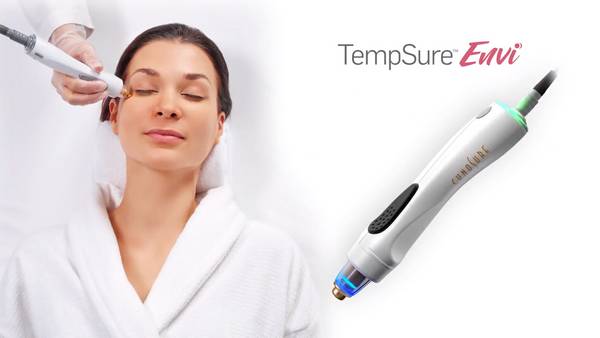 Benefits of TempSure:
Increase your skin's collagen production
See results after one treatment
Pain free
Conditions Treated by TempSure:
Facial wrinkles & fine lines
Cellulite
Sagging skin
Collagen loss or injury
Suggested Products:
Endor Neck & Decoltee cream
Vivier Grenzcine Eye Cream
Vivier Grenzicine Serum
Slight redness for 1 hour
TempSure Envi utilizes a gentle radiofrequency to heat the skin which activates your body's natural production of new collagen. The result? New collagen fibers will leave you with dense, tighter-looking, and feeling skin!  TempSure is available on the face and the body.
TempSure provides a revolutionary way to treat your skin! Its Therapeutic Logic Control guarantees that treatments are precisely timed for safe, comfortable results. The best part? TempSure works on any type of skin – so everyone can experience its amazing effects!
What goes on during a TempSure treatment?
One of our skin and laser specialists will welcome you into our studio, you'll be made comfortable, and we'll explain the process to ensure you are ready and then begin.
Treatment is virtually painless and takes between 30 minutes to a few hours, depending on the area being treated.
Expectations after TempSure treatment?
TempSure has virtually no downtime and you will be ready to go on with your day after treatment. Some clients do experience redness that may last for about an hour. To see great results we recommend between 3 to 5 treatments. Your practitioner will advise you as to what's best for your skin and for the results you desire.
The Relaxing Wellness Difference
Health and Wellness Experts:
At The Relaxing Wellness Company, your health and wellness are our top priority. Our studio is home to many registered massage therapists, Manual Osteopaths, Homeopaths, and more.
We understand that everyone has their own individual needs when it comes to skincare – so whatever treatment you're looking for, we'll put together a plan tailored just for you. Take comfort in knowing that all of the pampering will be great not only for how you look but also for how you feel!
Our MedSpa is fully equipped with a variety of the latest technologies in skin rejuvenation. In addition to TempSure Envi, we also have IPL technology, and other RF equipment such as ClearLift, and more.