What is Manual Osteopathy?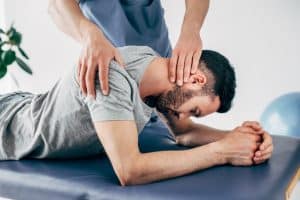 Manual Osteopathy is a form of manual therapy that looks at the body as a whole in mind, body and spirit. The manual osteopathic treatment philosophy seeks to identify areas of the body that are restricted or constricted and then gently ease these restrictions so that normal function can resume.
Can I visit an Osteopath for back pain ?
Absolutely.
What would my visit to Osteopathy look like?
If you came into our clinic and were experiencing low back pain, we will conduct an assessment with health history to establish patterns, trust, and collaboration. Questions may include:
How did it happen?
How long have you had the injury for?
Did you recall anything unusual that precipitated the low back pain?
We do a range of motion testing to see if there are any restrictions. We palpate to see what the muscle tissue feels like.  We will also do orthopedic testing to find out if the issue requires more diagnostic testing and evaluation.
Once we determine it is safe to proceed, we will apply joint mobilizations to loosen up the area. Joint mobilization is a softer and slower approach that is different from chiropractic manipulation.
After the area is mobilized, we apply muscular energy technique and help the individual gently stretch to further facilitate muscular or myofascial release. From here we will work above and below the area of complaint and repeat both the mobilization and muscular energy technique.
Based on the findings and outcome of the treatment we will suggest a stretching routine for the client to work on at home. Once we see some improvement in a client's range of motion and a decrease in pain, we will start engaging in muscular strengthening to aid in rehabilitation of the affected areas.
Is Osteopathy a softer approach for someone who does not want to go to a chiropractor?
Yes.
Relaxing Wellness has 3 manual osteopathy practitioners to serve the community: Chantel, Christopher and Dan.
Chantel's areas of interest include (not limited to) women's health and pelvic floor health.  When it comes to pelvic floor health and postnatal care in general osteopathy offers a holistic, well-rounded approach.   Manual Osteopathic treatments can be very effective and helpful for resolving many issues related to postnatal health including:
Low back pain
Pelvic pain
DRA
Shoulder tightness
Neck tightness
Postpartum anxiety
Incontinence
Scar tissue release
Chantel enjoys working with patients and helping ease their aches and pains through a variety of treatment procedures and looks forward to collaborating with her patients and other practitioners to provide the best health care possible to her clients.
Chris enjoys helping his clients continue to live active pain free lifestyles.  In addition to his training as an Osteopathy he is also a massage therapist.   Chris is committed to lifelong learning and open communication with his clients.  He believes that his clients are active participants in their recovery and believes that optimal wellness is achieved through commitment.
 Osteopathy is a philosophy of health based on the following principles:
1) The body is a unit.
2) Structure and function are reciprocally inter-related.
3) The body possesses self-regulatory mechanisms.
4) The body has the inherent capacity to defend and repair itself.
 Manual osteopathy is a gentle, holistic system of healthcare that focuses on treatment of the body's structure in order to optimize functions. While manual osteopathy is best known for pain relief from disorders such as low-back pain, neck pain, shoulder pain, headaches, sciatica, sporting injuries, etc. it also helps to optimize all of the body's systems (including movement, digestion, sleep, and energy levels).
Manual osteopathy differentiates between symptoms (like pain) and the cause of those symptoms. For example, a pain in your shoulder may be due to a problem in the shoulder, or the back, or the liver, or postural alignment.
Hope this helps clarify what osteopathy is and what our manual osteopaths at our wellness centre in Calgary SE do and how they can help.
If you have any questions about manual osteopathy treatment please let us know.
Find out more.